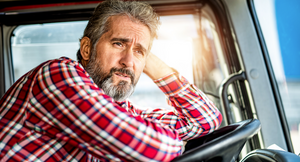 5 Costs Employers Pay Dealing With Occupational Injuries
TRUCK DRIVERS HAVE THE 3RD HIGHEST RATE OF OCCUPATIONAL INJURY.
Injury Risks Commercial truck drivers have similar rates of injury to professional athletes.
"…shoulder injuries were the second most common driver injury, but, even more important, it took longer to heal, cost more downtime, and often required more extensive treatments than back problems."*

"The reason we think that they (shoulder injuries) take much longer to get over is because a lot of them require surgery. They're going to involve either a rotator cuff tear or perhaps involve a labral tear or both."*
*Kahaner, Larry 19 Jan. 2018. www.fleetowner.com


Costs Employers Pay
Lost Productivity
Rehabilitation Costs For Long-Term Employees
The Financial Impact Of Replacing And Retraining New Drivers
Increased Costs Of Workers Comp Coverage
The Stress On Your Business Of Losing A Valuable Member Of The Team Over Preventable Injury.
MINIMIZE THE RISK OF DRIVER INJURY WITH A YANKER TOOL
The Yanker Tool helps keep your drivers clean, safe, and injury free. The driver is not squashed between the tires, under the trailer, risking his arm, back, and shoulder. They are standing straight, with good footing, in the Power Zone with great ergonomic advantage.
Stop ergonomically hazardous bending, crouching, and straining.
Stop extended range motion.
Stop pulling dynamic weight loads far beyond OSHA recommendations.
Stop repetitive motion stresses that cause costly catastrophic injury.


Here's what the ATA Workers Comp Fund has to say about Occupational Injuries. 
Alabama Trucking Association Workers' Compensation Fund is not affiliated with Yanker Tool.
The ATA Workers' Comp Fund is the proven choice in workers' compensation coverage for transportation, distribution, supply-chain logistics, and allied companies. Since 1993, The Fund has been providing its members with stable, low-cost workers' compensation coverage, combined with an industry-leading Loss Control and Safety program. In addition, our expert Claim Management team delivers results that can have a positive impact on your company's bottom line. - Read More
---